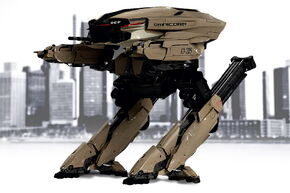 ED-209 is a fully-automated series of peacekeeping machines created by OmniCorp.
Twin Cobra cannons provide precision-strike cover for close-combat searches while anti-armor Hellfire missiles offer 360-deployment for defensive / disruptive maneuvers. Warheads may vary.
Environmentally sensitive yet blast resistant, all units possess the latest in O-Shield material, wrapping reactive graphene armor on the lightest liquid-steel infused mesoskeletal structure yet.
Armed with full media capability – 360 infrasonic cameras and audio targeting – ED-209 operates as evidence recorder, analyzer and transmitter. Real-time backup ensures operational security.
Solar O-cells draw directly from the stars or can be remotely charged from equatorial fuel stations for blackout sorties (subterranean, etc.). The ultimate in clean fuel, enriched O-cells power communications, motion, and weaponry.
Specifications
Edit
Bio-Specs
Edit
Awareness
Edit
Conversant in 1,500+ languages
AI-enabled "crisis decision tree"
Recognition
Edit
"Ally/Threat" sensor package
Voice and facial identification
9,000+ projected "Life-Saves"
Honoree, Baghdad's "Bright Future's Program"
Operational on all 7 continents
Reduced threat level in 100+ cities globally
Tech Specs
Edit
3.35m tall (11')
3,420 kg (7,550 lbs) - fully loaded
Max road "running", 30 km/h (18.64 mph)
Max off-road, 20 km/h (12.43 mph)
Twin .50 cal. Cobra cannons
Hellfire missiles
DIGIx shatterproof cameras w/ battle stabilizer
Bio-Mylar mic tracking (0.02% distortion)
Reactive graphene armor
Liquid steel-infused mesoskeleton
External links
Edit
OmniCorp, the OmniCorp website's page on ED-209.