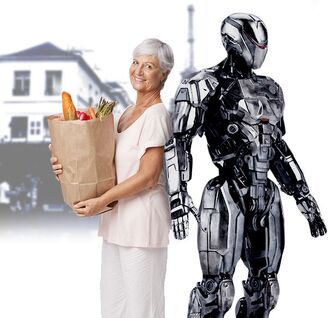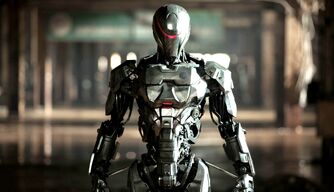 The EM-208 is a series of androids created by OmniCorp. The are purely robotic drones intended to replace normal police officers and military soldiers.
Automatic carbon-infused pistols offer 98.73% accuracy up to 800 meters with targeting synched to 360-visor scan. Unit can switch mid-blast to armor piercing rounds (range 150 m.) or short-range flame-thrower option.
Tempered O-Shield armor offers operational flexibility across ecosystems, with auto temperature regulation and self-"healing" functionality. Chemical structure of graphene remotely mutated to optimize defensive strength.
Like the big brother ED-209, EM-208 offers the full media suite: 360 infrasonic cameras, audio targeting, and real-time backup. Vocal mediation cued in over 1,500 languages with 500+ regional dialects remotely updatable.
Microscopic solar O-cells chemically bonded into O-Shield armor form the lightest fueling system ever devised, drawing power from the stars and storing bio-galactic fuel for up to 48 hours of Battle-level 5 activity
Specifications
Edit
Bio-Specs
Edit
Awareness
Edit
Conversant in 2,000+ languages/dialects
"Live" cultural sensitivity feed
Recognition
Edit
Biorhythmic "Ally/Threat" assessment
Sensitized via millions of engagement scenarios
450+ "Life-Saves" per unit in field (median)
Stationed at over 2,000 schools worldwide
Strategic scouts on all global forward bases
"Neighborhood Serenity" leads in 1,000+ communities
Tech Specs
Edit
1.78m tall (5'10)
873kg (1,925 lbs) - "battle trim"
Max road "running", 45 km/h (27.96 mph)
Max off-road, 30 km/h (18.64 mph)
Dual automatic carbon-infused pistols
Armor-piercing or flame-thrower attack
DIGImx3 battle cams w/ telescopic snap zoom
Bio-Mylar Jr.: vocal trackers (0.015% distortion)
Tempered O-Shield armor
Infused graphene with mutating bonds
External links
Edit
OmniCorp, the OmniCorp website's page on EM-208.
Community content is available under
CC-BY-SA
unless otherwise noted.