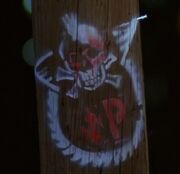 The Splatterpunks were a vicious street gang of punks of Old Detroit.
History
[
]
After failing in the pursuit of a group of rebels, Officers Anne Lewis, Donnelly, and Jensen were ambushed by a group of Splatterpunks. As the gang closed in on them, RoboCop came to their rescue, eliminating the gang members and arresting two of them that had managed to set him on fire.
After failing to employ the Detroit Police Department, Paul McDaggett hired the gang to assist the Urban Rehabilitators in eliminating the remaining rebels in Cadillac Heights.